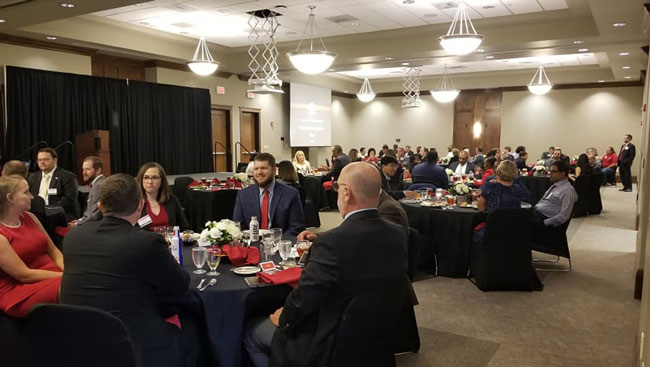 Engineering and computer science graduates form new alumni academy
Engineering and computer science graduates form new alumni academy
08/31/2021
JONESBORO – To meet the goal set by the graduates and administrative leaders of Arkansas State University, the College of Engineering and Computer Science (CoECS) Alumni Academy has been launched. The inaugural cohort of 30 members was inducted at a banquet at the Cooper Alumni Center.
The idea of ​​launching the academy was conceived several years ago by Bert Parker, a prominent business executive in the state and recently retired as senior vice president and chief executive officer of Garver. , a multi-state engineering, planning, architectural and environmental services company.
"A quick search provides information showing that State A engineering and computer science graduates are industry leaders in science, engineering, and technology across the country," said noted Parker, founding president of the Academy. "The leading graduate companies that supplied equipment to the International Space Station, helped design and build Navy and Air Force jets, are leaders in technological and medical education, and are even big players in Silicon Valley. "
The College of Engineering and Computer Science Alumni Academy will not only recognize these stars in industry, private enterprise, government, and academia, but reconnect these leaders to A-State in supporting academic programs.
Planning for the launch of the academy gained momentum after the university appointed the first dean of CoECS, Dr Abhijit Bhattacharyya, in 2019.
"Our goal is to celebrate their professional accomplishments and the resulting positive reflection on their A-State experience. We want to involve them, not only by supporting the college and its students with their time and expertise, but also to make them consider obtaining financial support to help develop the college and enable it to provide advanced training in engineering and in computer science in the state. of Arkansas, "according to Bhattacharyya.
"I consider it a privilege to have worked with a select group of alumni, Bert Parker, Jessie Jones (Arkansas Department of Transportation) and Jim Chidester (Batson Inc.), and my college colleagues to develop and launch the Alumni Academy, "added Bhattacharyya. "Anything we can do to help connect academy members to their alma mater is very rewarding for us and a great opportunity for our current students to learn from past members. I look forward to seeing the academy's growth in the years to come.
Parker, Jones and Chidester, along with Bryan Melton and Natalie Rogers, form the Academy's executive committee. The board members are Deric Wyatt, Evan Teague, Eric Farmer, Andrew Butler, Brandon Avant and Leigh Wineland.
The founding members of the Academy with professional affiliation and city of residence (by county and state) are:
(Benton) Charles Brinkley, Cree-Wolfspeed, Rogers;
(Benton-Washington) Bryan Melton, Garver, Springdale;
(Cleburne) Clint Bell, CWB Engineers Inc., Heber Springs;
(Craighead) Brandon Avant, Rural Sourcing Inc., Jonesboro; Andrew Butler, Autozone Inc., Jonesboro; David Handwork, A-State, Jonesboro; Rickey Jackson, RL Jackson's Construction LLC, Jonesboro; Dr Brandon Kemp, State A, Jonesboro; Garland Martin, Hytrol Conveyor Co., Jonesboro; Jason Stewart, A-State, Monette;
(Grant) Deric Wyatt, Arkansas Department of Transportation, Sheridan;
(Greene) Brad Smithee, Arkansas Department of Transportation, Paragould; Leigh Wineland, Unilever, Paragould;
(Lonoke) Jim Chidester, Batson Inc., Austin;
(Pulaski) Todd Castleberry, Harrison Energy Partners, Little Rock; Eric Farmer, Garver, Sherwood; Jessie Jones, Arkansas Department of Transportation, Maumelle; Herbert J. (Bert) Parker, Garver (retired), Little Rock; Aaron Robinson, Bond Consulting Engineers, Jacksonville; Natalie Rogers, FTN Associates Inc., Little Rock; Evan Teague, Federation of Arkansas Agricultural Bureau, Little Rock;
(Saline) Adam Roberson, Garver, Benton; Rex Vines, Arkansas Department of Transportation, Bryant;
(Florida) Ted Freeman, Velucidate Consulting, Niceville, Florida;
(Georgia) Leon King, AECOM, Marietta, Georgia;
(Mississippi) Edith Martinez-Guerra, US Army Engineering Research and Development Center, Vicksburg, Mississippi;
(Pennsylvania) Dr David Humble, Tower Health, Sinking Spring, PA;
(Tennessee) Rebecca O'Dell, United States General Service Administration, Portland, Tennessee;
(Texas) Keith Britton, Iconic Consulting Group Inc., Frisco, Texas; Adam White, Terracon Consultants Inc., Katy, Texas.
A list of the founding members, officials of the Academy, statutes and photographs of the celebration are also in line.
Membership is by invitation only; prospective members must have been in the workforce for at least 10 years and have significant professional achievements to their credit. Members are either graduates of one of the college's university programs or friends of the college.
The first members of the College of Engineering and Computer Science Alumni Academy meet at the Cooper Alumni Center at A-State.