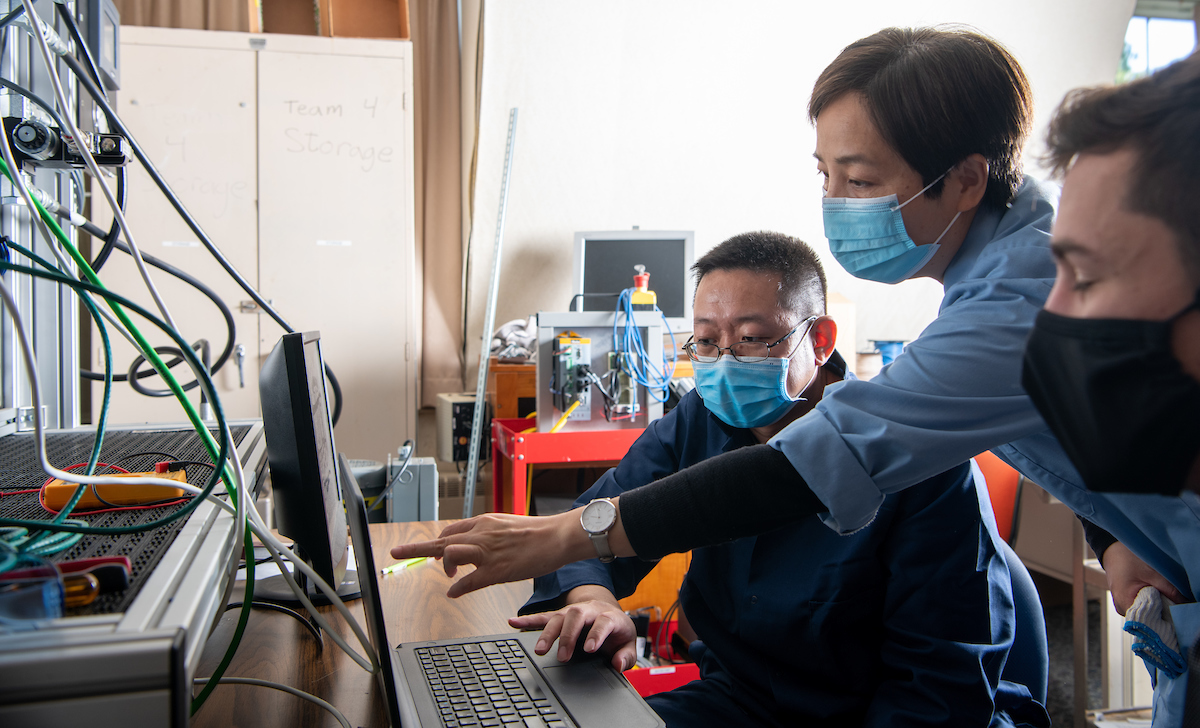 Engineering Technology and Management Student Wins Warner Award for Undergraduate Research
Reed Mechley, BSETM '21, recently graduated from Ohio University, but he didn't graduate without leaving his mark on undergraduate research.
After working in Dr. Yuqiu You's lab, Mechley was able to collaborate on a research project that culminated in his winning the Epsilon Pi Tau Warner Prize for Undergraduate Research in 2021.
In his final year, Mechley was invited to join You's research lab focused on electrohydraulics. Their project of interest was to establish and optimize a remote automatic position control system using equipment from industrial partner Parker Hannifin. Together, they created a movement system driven by a hydraulic valve that could be controlled remotely from any computer.
Mechley's lab experiment led to a chain reaction of success, including winning the Warner Award. The Warner Prize is awarded to a student who demonstrates excellence in undergraduate research and in 2021, Mechley was the only student to win the nationally competitive prize. In addition to this award, he also presented the project paper at the 2020 Annual Conference of the National Association of Technology, Management, and Applied Engineering and the 2020 Annual Conference of the American Society of Engineering Education.
What Mechley took away from his experience was not the award he won or the conference presentations, but rather the opportunity to gain invaluable experience, develop his communication skills and work alongside his mentors and respected peers.
"I became much better at communicating on many different levels working alongside graduate students Dr You and Dr Curtis Cohenour in communicating what needed to be completed or changed," Mechley said. "If something was wrong or I had a question, I had to learn to communicate to adjust things as they arose."
You said good communication was of the utmost importance as the pandemic changed the day-to-day processes in the lab, but Mechley didn't let those changes hinder his success. While classes were mostly remote in 2020, Mechley was given special permission to conduct his research on this project on the condition that he works alone in the lab. It was during this time that he helped build hydraulic circuits, configure and program the control system, and solve emerging problems while working with cutting edge technology.
You said the Mechley experience defines a typical Russ College undergraduate education. You explained that these types of immersive hands-on projects just don't exist in the classroom environment, and Mechley's lab experience prepared him to enter the workforce.
Today, Mechley works for a small robotics company in Erlanger, Ky. Called AHS. He is the first engineer-in-training of a pilot training program, which allows him to discover each type of engineering in the company. He hopes to continue at AHS as a project manager after the end of his training period.
Mechley enjoys working in project management, an interest and skill he honed during the Engineering Technology and Management program.
"I like being at the managerial level that is in action – being practical and doing what everyone else does, working with people, meeting organizational challenges, leading and getting the best out of people. You get to whatever problem you're trying to solve, "Mechley said.
Even though Mechley graduated, You continue to enrich the classroom experience at Russ College with hands-on learning opportunities. She hopes to bring true industrial-grade technology to Russ's classrooms through her lab. For Mechley, the experiential learning and invaluable mentorship were both rooted in his experience in You's lab, and they continue to impact his perspective as an engineer working in the industry. .