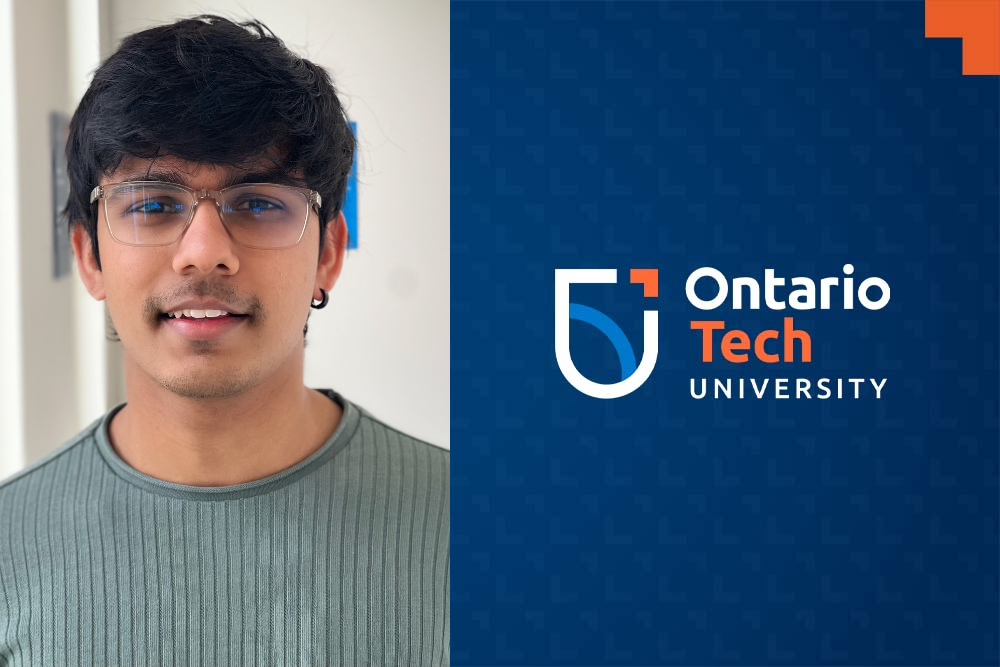 Personal initiative and drive open up new worlds for Ontario Tech computer science student Neel Shah
It is often said "life is what you make of it". It's an expression that fully applies to the case of Neel Shah, a student at Ontario Tech University.
A graduate of Anandalaya Education Society Secondary School in Anand, Gujarat, India, Shah came to Canada in May 2021 to start a Bachelor of Computer Science program at Ontario Tech, majoring in Data Science.
Shah admits that the field of computers and the science behind it didn't intrigue him at first as a young adult; what drove him was the desire to help the community in which he lived.
"I was a firm believer that only doctors and health practitioners can serve society," Shah says. "But as my habit of reading proliferated, I realized that problem solving was not domain specific and that there were other ways than being a doctor to solve different crises. "
What he loved, however, was numbers: analyzing patterns, from simple statistics to predict which team would win a cricket match, to the complexity of stock market data. One day, a fascinating blog introduced him to the world of data science and how it applies to almost every field.
"Ontario Tech's Computer Science program gave me the opportunity to develop my technical skills while helping me become a 'data storyteller', pursuing research projects to innovate new ideas. »
Find real connections in a virtual world
At the time Shah launched his studies in computer science (data science major), Ontario Tech was in online mode for course delivery due to restrictions related to the COVID-19 pandemic.
"To be honest, it was really difficult with the prevalence of COVID," Shah says. "Although we weren't able to do things in person, it didn't stop me from connecting with others or making friends. Tutorials and Laboratories Sub-Committee."
His relentless efforts to associate with others and grow his network have generated connections with other undergraduate students at Ontario Tech, including some outside of the Faculty of Science, as well as with students other universities and colleges across Canada. Benjamin Fedoruk (Thunder Bay, Ont.), an Ontario Tech applied and industrial math student who was part of a think tank called the Northern Shores Innovation Institute (NSII), was a new colleague. NSII members participate in academic research competitions and conduct personal (research) projects. Shah joined NSII, where he became more aware of student competitions through Fedoruk's connections to a student community group known as STEM Fellowship.
Shah, Fedoruk and Ontario Tech student Amanda Showler (computer science) entered a student competition at York University, showcasing research on micro aerial vehicles. Although they did not win any awards, they subsequently submitted their work to the 30th annual conference of the Computational Fluid Dynamics Society of Canada (CFDSC). Their abstract was accepted and Shah presented their work at CFDSC 2022 on August 9; the material was published in the conference proceedings.
Ontario Tech STAR Award, more student competitions
With his third year of studies starting in September 2022, Shah continued to seek out any extracurricular experiential learning opportunities he could find. He applied for and got an Ontario Tech Student Research Training Assistantship (STAR) Scholarship, under the direction of Dr. Gabby Resch, Assistant Professor (Information Visualization) in the Faculty of Business and Information Technology. The STAR award opened the door to collaborating with Dr. Resch over the summer to examine the impact of perceptual shifts on the interaction of 3D objects under unmediated, augmented and virtual reality conditions by characterizing behavioral changes that occur in these different environments.
"It was an extremely valuable experience to work with a collaborative team of senior researchers from Ontario Tech, Georgia Institute of Technology, University of Toronto, Metropolitan University of Toronto and the Advanced Perioperative Imaging Lab. Toronto General Hospital," says Shah. "The objective is to prepare a research project funded by the Social Sciences and Humanities Research Council of Canada.
At the same time, Shah came across the Inter University Big Data Challenge (IUBDC), again organized by STEM Fellowship. For the month-long competition, Shah teamed up with fellow NSII friends from Dalhousie University and the University of Waterloo. They won first prize in the Science Communication category (for Bayesian Diagnostic Pipeline and Trauma Response) with a paper awaiting publication in the STEM Fellowship Journal.
From Ontario Tech to Arizona State to… March!
Just before the IUBDC competition, a team member came across the Mars Telerobotic Expedition Design Competition hosted by the Mars Society at Arizona State University in Tempe, Arizona. The challenge: design the best expedition mission using a 10-ton payload Martian lander. Shah is part of a six-member NSII team that includes Alden R. O'Cain and Jason Thai, students from Ontario Tech's Faculty of Engineering and Applied Science, as well as students from Dalhousie, Waterloo and Confederation College.
"I was given a very specific role working on aerial drones as I had prior knowledge of micro aerial vehicles. We submitted our work naming our project 'Vulcan Forge'. We have now been selected as the one of the six finalists and we will be going to Arizona in October to give our final pitch.
The top prize is $10,000 and the top 20 papers submitted will be published in a new Mars Society book, Telerobotic expeditions to Mars: exploration of the red planet with robot platoons.
"While my academic background is of the utmost importance, these side projects have helped me develop various technical skills as well as soft skills such as time management, leadership, teamwork and writing. academic papers. I can't wait to see what's next," says Shah.
Another of Shah's Ontario Tech faculty supervisors, Dr. Christopher Collins, an associate professor in the Faculty of Science, remarks on how much his student has accomplished in such a short time.
"This is an impressive achievement for an international student who is truly charting an incredible path," says Dr. Collins, Ontario Tech's Canada Research Chair in Linguistic Information Visualization. "Neel and his teammates created all of this success independent of teacher guidance. We are proud to celebrate student success as well as the fact that the student team crosses various faculties here at Ontario Tech as well as other universities across the country. I'm so impressed that I hired him to join my lab in September to work on augmented reality information visualization applications in research funded by Meta Reality Labs. I can't wait to see what he does next!
---
Media contact
Brian Olivier
Communications and Marketing
Ontario University of Technology
289.928.3653 (mobile)
[email protected]