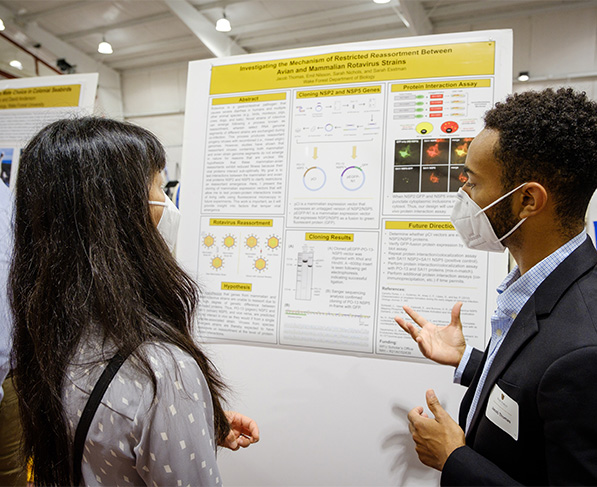 Research Day celebrates academics and mentors
"High impact practices, which include undergraduate research, really develop new perspectives in students beyond what they learn in the classroom," said Pratt.
Students gain experience both with research and by explaining their work to others.
Lillian Giles, a Mullen Fellow, studied the role of indifference in Tunisia's response to refugees and was mentored by political science professor Michaelle Browers. Giles has a double major in political science and French, with a minor in Arabic. Lydia Evans, major in anthropology, presented a project entitled "What do shrews tell us?" She learned how studying the remains of small mammals – like shrews, rats and mice – can provide useful information about the ecology of archaeological sites. His mentor teacher was Paul Thacker, professor of anthropology. Andy Greene, a junior statistics and computer science student, worked with math professor Rob Erhardt to create a model that quantifies drought predictability in the United States that outperforms other existing models and could help policymakers.
Nearly a dozen students have joined the faculty of the School of Medicine. Among them was sophomore Hannah Yoder, who was mentored by Kenneth Kishida in the Department of Physiology and Pharmacology. She explored ways to assess the relationship between creativity and decision making.
Sid Subramanian, also a sophomore student, focused his research on volunteering physicians at a local nonprofit and how telemedicine and virtual tracking can improve health care outcomes for underserved populations. . With a degree in biochemistry and computer science, Subramanian, who plans to become a doctor, has focused on public health and social justice issues. He worked with Jed Macosko, a mentor professor in the physics department, as well as with doctors in the region.
"These experiences help students develop as students, academics and citizens of the wider world," said Pratt.
Find out more about the URECA Center.