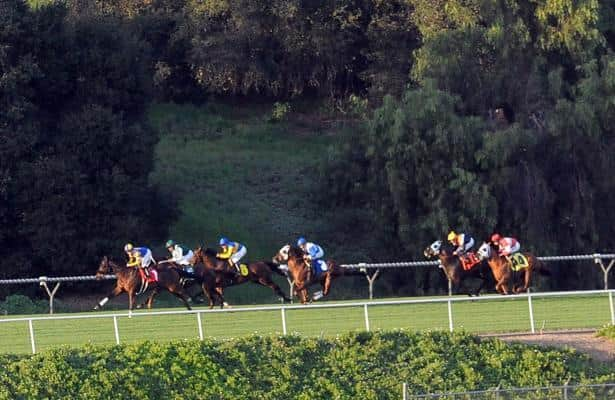 Santa Anita reopens grass downhill course for sprints this fall
The 16-day Santa Anita Park fall meet kicks off early on Friday, October 1, as a total of four bets will be offered on a nine-race card.
The $ 300,000 first-year American Pharoah Stakes, one of three qualifiers for the Breeders' Cup "Win ​​& You're In" Challenge Race, will be the star of today's race.
In addition to the American Pharoah, the Grade 2, $ 200,000 Eddie D Stakes, for ages 3 and up, will be contested at 6 1/2 stadiums on the Santa Anita hillside turf field. Named after legendary retired Hall of Fame jockey Eddie Delahoussaye, the Eddie D provides a platform for horses considering the Breeders' Cup Turf Sprint on November 6.
"Our fans, our riders and Eddie Delahousaye himself have told us they would love to see a return to racing on this European-style course which has been unique to Santa Anita for over six decades," said Aidan Butler, manager of operations, Racing operations for 1 / ST Racing. "The Eddie D will be one of four turf sprint stakes running on the Camino Real hillside turf course throughout our fall meet."
Walk-in admission is welcome for the Fall Meeting of Santa Anita. For the opening day, entry and general parking will be free.
The two-year-old fillies will go after the opening day of the Grade 2, $ 200,000 Chandelier Stakes, an automatic qualifier for the Breeders' Cup Juvenile Fillies on November 5th. The Juveniles will also compete at five turf stadiums in the $ 100,000 Speakeasy Stakes qualifier for the Breeders' Cup Juvenile Turf.
With the two-day Breeders' Cup World Championships scheduled for November 5-6 in Del Mar, Santa Anita will offer a total of 14 stakes during its opening weekend, October 1-3.
A total of five stakes will be offered on Saturday October 2. The Grade 1, $ 300,000 Awesome Again, a Breeders 'Cup qualifier at the $ 6 million Breeders' Cup Classic for ages 3 and up at a mile and an eighth, the $ 300,000 Rodeo Drive (G1), a Breeders' Cup Win & You're In qualifier for one and a quarter mile fillies and mares on grass, $ 200,000 Santa Anita Sprint Championship (G2), Win & You're In qualifier for children 3 years and over at six stages , the $ 200,000 John Henry Turf (G2) Championship, twice nominated for Legendary Horse of the Year, is aimed at children ages 3 and up to a mile and a quarter on turf and the $ 200,000 City of Hope Mile (G2) for ages 3 and up.
On October 3, legendary Eclipse Award winning mare Zenyatta will be celebrated, with the $ 200,000 Zenyatta Stakes (G2), a Win & You're In qualifier for 1 1/16 mile fillies and mares pointing towards the grade I Breeders' Cup Quenouille. Fillies and mares will also be the focus of the $ 100,000 Chillingworth Stakes (G3) at 6 1/2 Stades, a race that honors the memory of the longtime Oak Tree Racing Association board member and distinguished owner / breeder, Sherwood Chillingworth.
A pair of one-mile turf stakes will also be offered on October 3 for kids ages 2 – the Surfer Girl and Zuma Beach, as well as the $ 75,000 Unzip Me, for fillies ages 3 to 6. ½ stages down the grass to the hillside.
In addition to the Eddie D and Unzip Me Stakes, a pair of Cal-bred Stakes, the $ 100,000 California Distaff Handicap on October 16 and the $ 100,000 California Flag Handicap on October 17 will also be contested at 6 ½ stadiums downstairs. from the hill. . Additionally, selected allocation races will take place on the hillside throughout the 16-day meet.
Source link