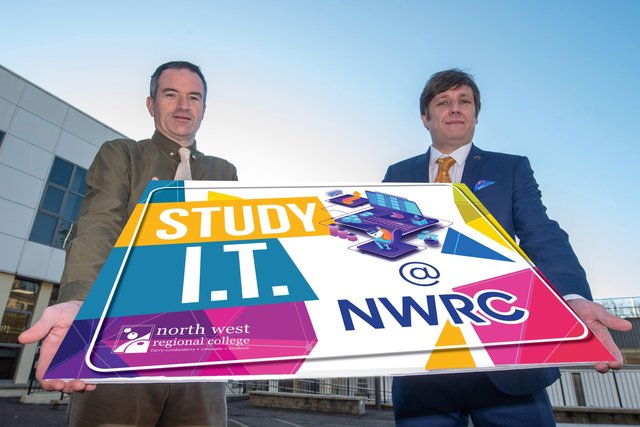 Stephen starts new IT career after completing NWRC software course – Derry Daily
Stephen Leppard, a student at North West Regional College (NWRC), has landed an exciting IT role with global learning technology provider Synergy Learning after completing a part-time college course.
He is one of hundreds of young people embarking on a career in IT after gaining qualifications at NWRC which include esports, information and creative technology and software development.
Stephen started the Level 4 Diploma in Software Testing in September and also achieved ISTQB Foundation certification.
The 38-year-old previously worked as a website moderator and customer service advisor for 4 years before launching his IT career at NWRC.
He explained, "I decided to enroll in the course because I wanted a new career, new perspectives and opportunities for career development.
"I wanted better work-life balance and a better work schedule, so I contacted the NWRC for details of the course and available funding.
"I had looked at a number of IT programs and courses before as I wanted to get trained and get a job in the IT industry, but they all had a basic certificate or additional requirements.
"However, when I saw this course I thought it was perfect as it covered all areas to prepare for a role in quality assurance.
"Within 5 weeks of starting this course, I was interviewed for a QA Analyst position at Synergy Learning, which allows me to put into practice the knowledge and skills I have acquired so far. now while finishing my course."
Stephen added: "I would advise anyone interested in a career in IT and wondering if they should contact the NWRC Business Support Center who can help you explore courses and funding options. . » '
Kevin McLaughlin, NWRC Computing Lecturer & Kickstart IT Software Fundamentals Course Coordinator, said:
"The Software Fundamentals degree is delivered part-time 1 day per week for 9 months and includes assignments and modules that make up a portfolio of work.
"The course content is designed for people of all skill levels and gives students the opportunity to train for and gain employment in the rapidly growing IT industry with a variety of roles.
"Units include Object-Oriented Programming, Software Testing, Structured Query Language (SQL) Fundamentals, and Automated Software Testing Fundamentals.
"Students also have the option of undertaking the globally recognized ISTQB Foundation certification.
Kevin concluded, "I would personally like to thank all of the students who initially applied for the course.
"I would also like to wish Stephen good luck and look forward to working with him throughout the academic year to further improve his software testing skills.
"I would highly recommend anyone looking to improve their software testing skills to contact me as there are many great courses with job opportunities."
Tory Kerley, People Manager at Synergy Learning, added, "We are delighted to welcome Stephen to the team.
"The ability to hire directly from a highly relevant course is a huge advantage as an employer while also giving us the ability to provide real opportunities for students.
"Working with the college and allowing us to develop this partnership to hire ambitious students who are looking to grow their careers in this positive way like Stephen is a really exciting prospect for us, especially in the field of technology recruitment which can be extremely competitive. . '
For more information on the KickStart IT program and to apply, visit: https://www.nwrc.ac.uk/courses/software-testing-level-4-diploma
Or at: https://www.nwrc.ac.uk/business/business-programmes/kickstart-it-programme
Stephen starts a new IT career after completing the NWRC software course was last modified: March 20, 2022 by cassoscoop
Key words: