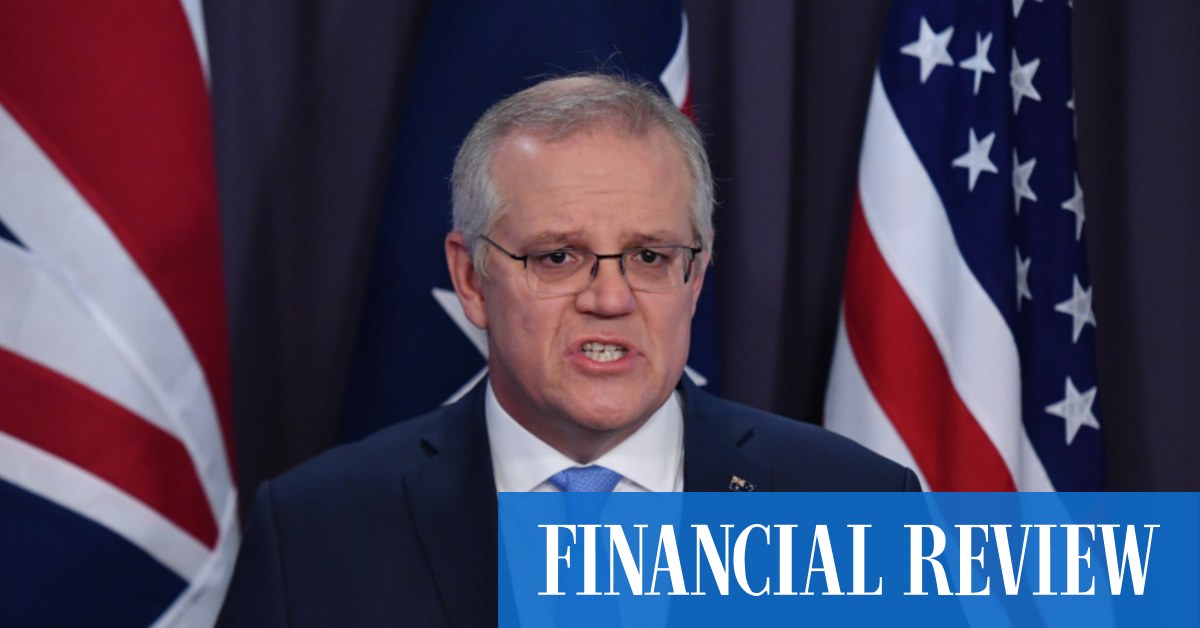 The nuclear family – a new course in Australian submarine policy
What really made it possible, however, was America's willingness to share its "crown jewels" with Australia – nuclear propulsion technology that can be installed in a submarine without having to need a national nuclear industry.
"This is a big policy change in Washington, DC," said Hugh White, professor emeritus of strategic studies at Australian National University.
Buying nuclear submarines now doesn't make strategic sense, and it doesn't make operational sense.

– Hugh White, Emeritus Professor of Strategic Studies at ANU
The acquisition of nuclear-powered submarines promises to transform the navy – only a handful of countries operate them – but there are uncomfortable realities that Australia must face as well.
The 2009 Defense White Paper established the need for 12 submarines, but progress has been freezing. Former Defense Secretary Kevin Andrews signaled in 2015 that they are expected to arrive from the mid-2020s, when the Collins-class submarines are due to retire. But the first of the French-designed submarines was not to enter service until a decade later.
A Defense-led task force will spend up to 18 months assessing whether the British or American submarine is the best option, as well as manpower, shipyard and training needs. The government maintains that construction can still begin in the latter part of this decade, but the new submarine will be delivered a few years later than the French would have been.
But that depends on the smooth running of the project. If Australia wants to tinker with the design, it will add time. There are also capacity constraints in the US and UK. Their shipyards are busy and the construction of Australian reactors will have to be built into production schedules.
And despite assurances that the reactors will be sealed and that Australia just has to "plug them in", it goes without saying that this is technology that has never been used here before. So even a delivery date of 2040 can be optimistic.
chinese challenge
By then it may be too late. "The challenge we face from China is not a challenge that will emerge in the 2050s. It is happening now. The timing is wrong, "White says. "[Buying nuclear-powered submarines now] doesn't make strategic sense, and it doesn't make operational sense.
White says Australia is now more closely tied to the US strategy against China, which aims to prevent Beijing from challenging US primacy. The possible acquisition by Australia of eight nuclear-powered submarines will not change Xi Jinping's calculations.
"And if deterrence fails and we end up going to war, will eight Australian submarines make a difference in the outcome?" I don't think it will, "White says.
To avoid a capacity gap, the government will extend the lifespan of the six Collins-class submarines through a major overhaul and upgrade program starting in 2026.
White says he's not against acquiring nuclear-powered submarines, but the question Morrison should be asking himself is which boats are best suited to Australian targets, not US targets.
White says the Navy's priority should be to use submarines closer to Australian shores to protect shipping lanes. He says that for the cost of 12 French submarines, or eight nuclear-powered, Australia could purchase 24 conventional Collins-class submarines.
"The reason we were taken to a big boat is that we decided that our most important role is to help the United States drive out Chinese submarines in the South China Sea and the China Sea. Eastern, "he said. "You would sink more enemy ships with 24 ships than with eight nuclear powered."
Ironically, as former Prime Minister Malcolm Turnbull recounted in his autobiography, Naval Group was chosen in 2016 for the future submarine program as a stepping stone towards the potential acquisition of a nuclear powered submarine. . The Australian submarine was to be based on the French nuclear design and deconstructed to accommodate diesel-electric propulsion.
The United States obtains an ally with a significantly improved submarine combat capability.

– Paul Maddison, director of the UNSW Defense Research Institute in Canberra, on an AUKUS alliance
When Naval Group learned on Wednesday night that the project was about to be canceled, leaders pleaded with the government to put the execution on hold, offering whatever they could. However, Morrison says French nuclear technology was not suited to Australian needs.
The new generation reactors used by the United States and the United Kingdom are self-contained and will not require reloading, while the French reactors would require a local nuclear industry to support them. Defense officials say if major work is to be done on the reactors, the submarines can be taken to US shipyards at Pearl Harbor in Hawaii or San Diego.
Submarines are the first leg of UKUS, the defense technology and research sharing agreement between Australia, the United States and the United Kingdom. The government has flagged quantum computing, artificial intelligence and underwater drones as other areas of cooperation.
Naval Chief Mike Noonan, one of the few to know about behind-the-scenes nuclear planning, said it was the most important decision of his life for the Navy. He says conventional submarines, however capable, have to regularly raise their masts above the surface to recharge their batteries, making them easier to detect.
"Fundamentally, this decision ensures that the men and women of our navy have the capabilities they need in the future to fight and win at sea," he says. "The rate of change that we see in the future in our region is a clear indication that a conventional submarine, however advanced, will not be able to undertake all of the tasks and activities required in our region. region at an acceptable level of risk.
"Nuclear powered submarines have superior characteristics of stealth, speed, maneuverability, survivability and endurance compared to conventional submarines," he says. "They are also capable of deploying unmanned underwater vehicles, and they can carry more and more advanced submarine weapons.
"These characteristics allow nuclear-powered submarines to operate in disputed areas with a much lower risk of detection and they are able to deter actions against Australia's interests in a more lasting manner than a conventionally powered submarine. "
American interests
So how does America benefit by offering its nuclear technology?
"The United States is getting an ally with significantly improved submarine combat capability," said Paul Maddison, director of the Defense Research Institute at the University of NSW in Canberra. "The decision of the United States to share the technology was prompted by the decisions of Beijing.
"Strategically, this sends a very strong regional signal to Indo-Pacific partners and potential adversaries that Australia is serious about national security and vital interests, and that it continues to recognize the critical importance of states- United for the region.
"This is a new group that enjoys a different degree of strategic trust than any other group. There is a new target in circles of trust and that is the AUKUS alliance.
Maddison, a former head of the Canadian Navy, however, rejects the idea that the nuclear deal automatically forces Australia to follow suit with the United States on issues such as a crisis in Taiwan.
"I don't think there is any suggestion in creating a tripartite alliance that commits Australia to making sovereign decisions that may not be in Canberra's best interest," he said.
China's reaction has been colorful but predictable. The newspaper of the bellicose state, World time, said the Australian sailors would be the "first group of Western soldiers to lose their lives in the South China Sea."
Morrison, however, was dismissive, pointing out that China already operates its own fleet of nuclear-powered submarines and plans to build more.
"China has a very important nuclear submarine construction program and has every right to make decisions in its national interests for its defense arrangements," he said. "And, of course, Australia and all the other countries too."