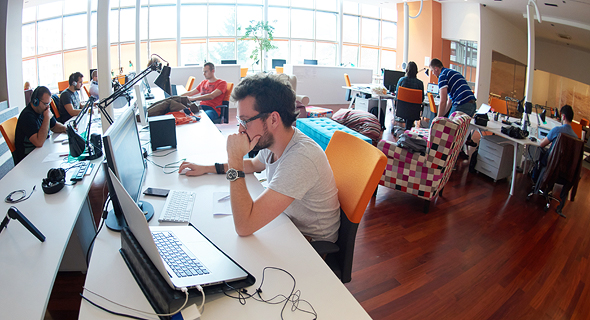 What's the next big thing after cannabis? Hallucinogenic mushrooms of course
Senior executives from Israel's high-tech industry shared which areas will be invested in in 2022 ahead of Calcalist and Poalim Hi-Tech's StartUp + competition which ends on Thursday, with two out of five finalists who will win cash prizes and services.
Maya manela 15:2903.11.21
Cyber ​​security will remain a hot sector and investments in sustainable technologies will continue to grow, along with automation and digitization. And after the cannabis has had its go, the next big thing will be the hallucinogenic mushrooms. These are some of the predictions for 2022 made by top Israeli tech executives ahead of the Calcalist and Poalim Hi-Tech StartUp + competition final, which is scheduled to end on Thursday. Two out of five finalists will win cash prizes and services.

"There are several hot areas, and I think they will remain big markets. One of them, which is quite large and has many other bottlenecks and room for innovation, is the world of data centers, both in terms of provisioning and usage needs. , appropriate use of resources, but also in terms of computing power, "said Lior. Handelsman, who is a partner at Grove Ventures. He also believes that another hot sector is digital transformation: "Our interactions with the world are becoming fully digital. Startups continue to use artificial intelligence to perform tasks that would normally be done manually, especially in the fields of medicine, finance, and information processing which I believe have great potential. The third hot sector, according to Handelsman, is cybersecurity: "There is a difference between the incredibly high valuations that we are seeing right now – which do not accurately reflect the financial reality of some of these companies – and the fact that cyber is critical and that the more we develop defensive technologies to combat attacks, the hackers themselves too. That's why I think there is room for added value.
Yonatan Morag from Hapoalim Bank. Photo: Bank Hapoalim
As for the Internet of Things (IoT), he added: "Look at what happened with the automotive industry: now terminals can provide solutions that integrate detection capabilities, detect smells and sounds. , and areas such as processing and communications. "
Arik Kleinstein, a partner at venture capital group Glilot Capital, said he believes one of the most exciting areas to invest in is cybersecurity. "This is not a new problem, and it still exists, but it is only getting worse. Our world is becoming more and more digital and attackers have more room to attack. The financial motivation to carry out such attacks is also increasing. Organizations are at their mercy, which is why the corporate world must arm itself with defensive technologies. This sector will continue to generate interest, and in Israel there is an excellent ecosystem for entrepreneurs who want to start e-businesses, "he said.
Another industry that started ten years ago but will continue to gain attention is the area of ​​cloud-based technologies. "Today's businesses are building advanced model-driven applications that integrate AI not only at the application level, but also at the cloud infrastructure level. This area will continue to expand, "Kleinstein said. "No one could imagine what the pandemic would look like without these technologies. We ordered pizza over the phone and the restaurant had to employ delivery people. During the pandemic, it would have completely collapsed. We continued to order food and empower the restaurant industry using apps like Wolt, but even those apps wouldn't be here if it weren't for the mobile infrastructure, the cloud. and algorithms capable of handling orders and couriers. We will see many changes in industries that have not yet used such technologies. This happens in many industries, from health technology to the education sector. "
Ran Schneiderman, CEO of Made, said that outside of the usual industries such as cyber, fintech has also accelerated dramatically in recent years and will continue to do so with insurtech. "This is a field that is diversifying and will continue to do so. We are seeing secondary insurance companies joining the bandwagon. They embrace these trends.
Likewise, the relatively new field of HR technology will continue to be a hot industry and was created to meet a need to manage decentralized employees. The most recent and influential sector that Schneiderman says will be the next hot area is sustainable investments in environmental, social and corporate governance (ESG), which includes food and agricultural technologies. "For example, we've been seeing alternative meat companies popping up for a while, but now aside from trying to replace meat, we're also talking about its taste and shape. There are several companies operating in this field, and there are special investment companies and incubators designed specifically for the food technology sector, "he said.
In addition, waste treatment and waste creation prevention technologies are another hot area that will continue to attract the interest of entrepreneurs and investors. "Nowadays, no one needs to explain why it is wrong to use plastic," he said. "Companies are finding new solutions to deal with packaging and recycling. It has become a trend and we are only beginning to see how it will affect the world we live in as humans. Private equity firms realize that we cannot ignore this industry.
The coronavirus pandemic (Covid-19) has also caused a shift in the area of ​​mental health and well-being, which is also starting to develop. "This is an area that has been ignored for a long time, but is in its infancy and has room to develop," he said.
Yonatan Morag, director of the commercial department of the Hagalim branch of Bank Hapoalim in Herzliya, believes that another sector that will develop is medical technologies based on hallucinogenic mushrooms. "Just like with cannabis, we are seeing more and more medical technologies based on hallucinogenic mushrooms. Recently, several companies have appeared in this field.
Additionally, he said gaming startups have become a major player in fundraising and will continue to be successful. "There are Israeli venture capital firms that have entered the arena, and many new firms have managed to raise significant funds. This is a trend that should continue. Funding in areas such as cybersecurity, big data, AI, and blockchain is now increasing exponentially at the start-up and Series A stage. The whole industry has leapt forward. If once raising $ 1 million was awesome, now it's pretty normal. Many foreign companies have started investing in Israeli startups and that is why we are seeing significant rounds of funding. "
The five finalists
Calcalist and Poalim Hi-Tech's StartUp + competition, which takes place for the second year in a row, will end Thursday in Tel Aviv. Of the 250 startups that applied, only five reached the final phase. Two of the five startups will win cash prizes and an opportunity to move their business forward.
These five startups are:
1. Luminescent, which makes an efficient and inexpensive small motor designed to produce green energy. According to the company, it is the only one that is based on liquid materials.
2. Blings.io, which develops video technology based on code similar to HTML; its video is created in real time on a customer's device, and businesses can use it in a dynamic and personalized way.
3. EverSQL, which develops an artificial intelligence-based product that automatically optimizes software and applications, and does not require developers or database experts.
4. DiagnoSestick, which seeks to overcome the difficulty of monitoring children's tooth brushing by using a unique saliva strip test to predict cavities and tooth decay.
5. Velotix, which has developed an information processing platform for organizations that process very large volumes of information and are subject to external regulations, such as financial institutions and medical and insurance organizations.